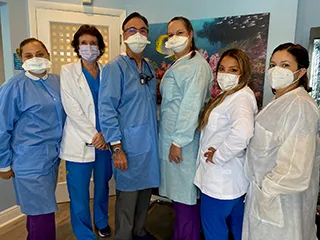 All of our professionals at Gary D Levine, DDS, PA maintain the highest levels of accreditation and pursue continuing education in order to stay abreast of the latest trends in dentistry.
Doctor

B.A. - S.U.N.Y. at Binghamton
D.D.S .- Emory University School of Dentistry, Graduated with Honors
In private practice in Boca Raton since 1985.
Previously in private practice in Atlanta, Georgia.

'My goal in treating my patients is to always make their dental experience worth smiling about. My staff and I are always working to improve ourselves and, in turn, the quality of care rendered to all of our patients.'

Dental Hygienist

Practicing Dental Hygienist for 28 years.
With our office since 1997.
Enjoys gardening, volleyball, swimming, and skiing

'I truly enjoy the challenge of motivating my patients to improve their dental health.'

Office Manager

Yohanna has been in the Dental Field since 2005. As the Office Manager, she goes the extra mile to ensure our patients receive exceptional care and have an amazing experience in our office. She enjoys interacting with patients and educating them while helping them obtain a healthier, brighter smile. A native of Colombia, Yohanna was raised in New York and is bilingual. Away from work, Yohanna spends time with her family, loves to travel, and enjoys riding her bike. Remember 'Your Smile is Worth a Thousand Words'

Certified Dental Assistant

Percy has been in the dental field for over 17 years. She is highly trained as a Certified Dental Assistant. Percy's number one priority is taking care of her patient's needs. As a team player, she is essential to the success of the office. Patients appreciate her gentle ways and her positive and always pleasant personality. Having been born and raised in Puerto Rico, Percy is also bilingual. In her leisure time, she enjoys traveling, watching movies, and spending quality time with her family.

Dental Assistant

Tori is working as a Dental Assistant in the office. Being born and raised in South Florida, some things that she enjoys are taking care of her two dogs, traveling, and crocheting. She recently graduated with an associate's degree in general education and health science and plans to further her education in order to continue helping patients in the dental field. Tori's polite and caring personality does wonders to comfort our patients throughout their treatment.

Patient Coordinator

Claudia works at the front desk and also performs various duties throughout the office. She has been working in the medical and dental fields for over 15 years. Originally from Indiana, she has been enjoying the Florida lifestyle for many years. Away from the office, Claudia loves tennis, travel, the beach, and is an avid reader.